News aggregator, manager, envoy
NewsVoy can help manage a news page—or a robust network of news pages. Search for articles, videos and podcasts, curate content by sentiment or keyword, and post to all sites in your network.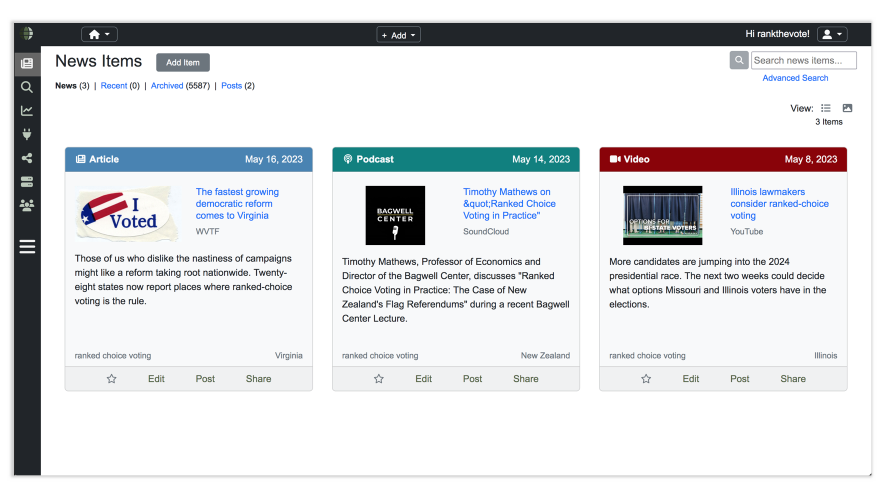 Custom post templates
News pages should look like they belong. NewsVoy lets you edit HTML/CSS templates, so each news post will fit seamlessly into every site in your network.
News content targeted to your audience
Work effectively with organization and community partners on your issue. Batch-post news content to multiple sites, add organization partners, and automatically tag relevant partners for each news item.
Data tracking, analysis, and AI
Take a deep dive into your news data. Visualize usage, event coverage, and shifts in media attitude on an issue using NewsVoy's sentiment analysis AI plugins.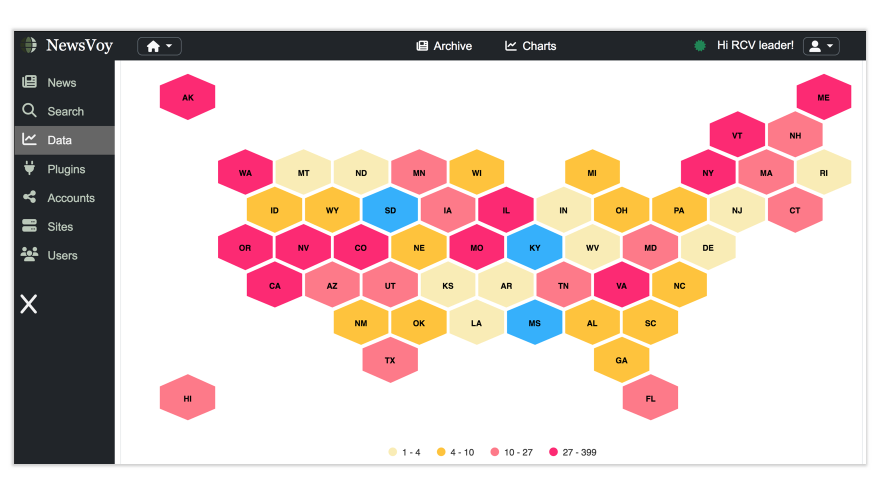 Works with your other tools
NewsVoy integrates with popular site platforms WordPress and NationBuilder. News content can be relayed across a network of sites that includes a mix of both platforms.
Easy migration between platforms
Should your organization ever migrate from NationBuilder to WordPress and back, NewsVoy can be posting to your new platform without missing a (news) beat.
Expandable with plugins
NewsVoy offers dozens of powerful plugins, including article, podcast, and video search engines, content extractors, URL shorteners, and sentiment analysis AI.
Top questions about NewsVoy
What's different about the paid version of NewsVoy?
Paid users can post to a website, relay post content, export news data, and access tech support. See a comparison of features.
Where do the plugins come from?
Plugins are added by API (Application Programming Interface) from a wide variety of providers, including Bing, YouTube, and many others. See a list of available plugins.
Can a user post to multiple websites?
Yes. Content can be batch-posted to multiple sites at once with the use of relays. See a list of available post content.